As a longtime console gamer, I have to admit, I've had a difficult time adjusting to gaming on my Android device. Sure Angry Birds plays well with it's one handed touch-screen controls, but that's only fun for a quick gaming session. Lately, we're starting to see more powerful hardware and along with that, a move from simple touch-based games like Angry Birds, to full on console-quality titles like Shadowgun. And if you're really going to sink your teeth into Android gaming, you're gonna need a bigger gun. And by gun, I mean physical controls.
Developers have helped address this issue by introducing applications that allows users to take their PS3 controllers and connect it to their phones/tablets/etc. But there's still the problem of properly positioning your device. While kickstands are beneficial, gaming can still be chore if you're hunched over with your phone on your lap when laying in bed.
Thanks to a friend on Twitter, my journey for the ultimate gaming accessory lead me to the GameKlip. This is a simple device that attaches your phone to your PS3 controller creating a sort of mini-console, allowing you to quickly and easily fire off hadoukens and perform cross counters with ease.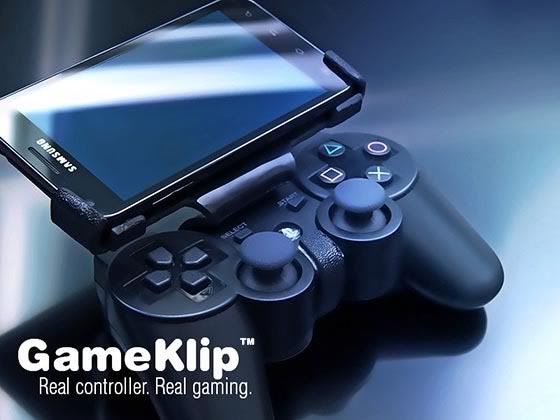 The design is so simple, yet so genius, most of you are no doubt kicking yourselves for not coming up with it first. Keep in mind, there are a few caveats. One — you're going to need a rooted phone if you hope to use your PS3 controller wirelessly. Two — there is a non-root version of the GameKlip that includes a USB cable but only some devices will work with it out of the box (the Samsung Galaxy S3 being one of them). If you phone isn't on GameKlip's list, there's no guaranteeing your device will be compatible.

To better show you guys how the GameKlip works, here's a quick video from the inventor giving a little more detail.

No, you don't have to wait weeks for this to be funded on Kickstarter and then months for it to go into production. The GameKlip is available right now and sells for $15 wireless, and $23 for the wired version (around $4 for shipping). If this looks like the accessory of your dreams, you can jump onto TheGameKlip.com and order your own. Who's buying?

Transforms Your Phone Into A Mini-Console By GameKlip Is The Ultimate Android Gaming Accessory,